Home | The Hall | Walking | Beer | Accomodation | Travel | T-shirts | Photos | Other Stuff | Kitten!
Linuxbierwanderung Alfriston 2010
Mr. David Cantrell and Mr. David Harris cordially invite you to join them in Alfriston for a week of hacking, drinking, walking, and assorted other Frolics. We think that Alfriston is an excellent venue for an LBW, as it has plenty of good walking in the nearby hills, a multitude of local beers, plentiful accomodation, and it's easy to get to.
The Dates
Several hundredweight of the finest dates will be imported by sea-going camels specially commissioned from the Kingdom of Morocco, between 25 Jul and 1 Aug.
The Cost
As always, the LBW will be funded by donations from attendees. The suggested donation is £15, €20, or CHF25, but this is not compulsory. If you can't afford to donate, please turn up anyway.
The Hall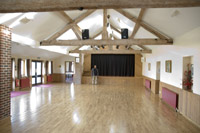 We will be based in the Memorial Hall, next to the village green and church on one side, and riverside meadows on the other. It has one large hall, one smaller hall that would be used for talks, and a well-equipped kitchen. The premises have a licence for the sale of alcohol, so we will be able to have the traditional barrel of special LBW beer. More details ...
Walking
There is lots of good walking in the area, with convenient pubs to stop for refreshment in most of the villages. There are walks suitable for a wide range of abilities and fitness levels. More details ...
Beer
Sussex - the county in which Alfriston lurks - has a great many small breweries. The nearest major brewery is Harveys in Lewes, who brew several ales, mostly fairly hoppy. There are also local cider producers and some small vineyards producing prize-winning wines. More details ...
Accomodation
The village has three pubs which also let out rooms, several bed and breakfasts, a couple of hotels, and a youth hostel. There is more accomodation in some of the surrounding villages within easy walking distance. More details ...
Travel
Alfriston is well-signposted from the main A27 road. There is a railway station nearby, with direct trains to/from Ashford International (for those using the Eurostar), Gatwick Airport, London Victoria, and Brighton. Ferries from Dieppe dock in Newhaven a few miles away. More details ...
Other
For the non-geeks, there's a lot to do in the area. There are numerous castles, gardens, museums etc. Brighton is only a very short trip with all that it has to offer. More details ...
Gratuitous picture of a kitten