Location | Getting There | Hall | Accommodation | Food and drink | Walking | Activities | Language | Photos | T-Shirt
Helmbrechts is a small town in Upper Franconia, which is part of northern Bavaria.
It's located between the city of Bayreuth and the borders of Saxony, Thuringia and The Czech Republic.
As the name implies it is a hilly area (400-800m above sealevel) in the region of Frankenwald (Franconian forest) with warm summers and snowy winters.
The climate in summer is quite decent as it doesn't get extremely hot.
Just to warn you: we are definitely not the Bavarians most people expect. We don't wear leather trousers or sing funny folksongs.

See what Wikipedia has to say about Helmbrechts
by Air
There is a shuttle service from FRA to HOQ (Hof airport) operated by Augsburg Airways, a daughter company of Lufthansa. Typically it costs no extra to fly to Hof than to Frankfurt.
The nearest Ryanairport is Altenburg Nobitz They have daily flights from London Stansted, and weekly flights from EDI, Ryanair pretend this airport is somewhere near Leipzig.
Getting from Atenburg by public transport takes a long time, but if you want to try it buy a single ticket from Altenburg to Werdau (6.9€), then an Egronet ticket (15€) which will cover the rest of the journey, buy it from the machine on the platform rather than the booking office to avoid an issue fee. If you want to avoid faffing about the full price ticket to helmbrechts is ~ €28.00.
Do not believe the shuttle bus timetable if booking train tickets, in my experience it tends to leave late. A Taxi to Altenburg Hbf or Gößnitz Hbf costs about 25€ from the airport.
There is also a small airstrip in Helmbrechts-Heide, so if you're a pilot you can fly direct, see the above link for details.
Trains
see Bahn.de They have some special offers from london, search for trains leaving at 0830, if you're lucky you'll find tickets for 49€ each way 2nd class or 99€ each way first class including eurostar. If you go second class it is worth paying 2€ extra for a seat reservation. Book a return journey to save paying postage costs on the tickets for each way.
If you plan to arrive later in the evening look for trains to Münchberg, you can then get a taxi to Helmbrechts.
There are also special saving tickets avalible with in germany, but you have to be quick as they sell out!
Car or Motorcycle
Helmbrechts is 10 KM off junction 35 on the A9 Autobahn, signed Münchberg North, follow the Road signs to Helmbrechts on the St 2194
The decision is made. The hall will be in the Stoffwerk in the neighborhood of a factory outlet, a designer, a flower shop, a greengrocer and a small cinema
It could be rented for a reasonable price or even for free (maybe cleaning costs).
Soon we will publish some pictures from the inside.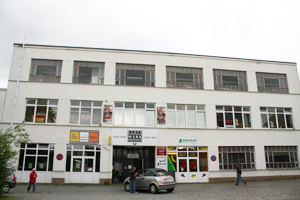 Gasthof Rossner
Hofer Str. 35
95333 Helmbrechts
Tel. +49 (0)9252/5116
Fax +49 (0)9252/92100
info@Gasthof-Rossner.de
WebSite

Prices
20,00-24,00 € per night single room
30,00 € per night single room incl. TV
40,00 € per night double room
50,00 € per night double room incl. TV

Special Offer
18,00-20,00 € up from 3 nights single room
24,00 € up from 3 nights single room incl. TV
30,00 € up from 3 nights double room
all including breakfast

Hotel Zeitler
Kulmbacher Str. 13 u. 17
95233 Helmbrechts
Tel. 09252 / 962-0
Fax 09252 / 962-113
mail@hotel-zeitler.de
WebSite

Prices

Special Offer

Deutsches Haus
Friedrichstr. 6
95233 Helmbrechts
Tel. 09252 / 1068
Fax 09252 / 6011
info@deutsches-haus-helmbrechts.de
WebSite

Prices
43,00 € per night single room
65,00 € per night double room
95,00 € per night four-bed room

Special Offer
280,00 € 7 days single room
420,00 € 7 days double room
620,00 € 7 days four-bed room
all including breakfast

Ostermaiers Waldeck
Edlendorf 12
95233 Helmbrechts
Tel. 09252 / 285
Fax 09252 / 9920-20
info@ostermaiers-waldeck.de
WebSite

Prices
28,00 € per night single room
46,00 € per night double room


Special Offer
196,00 € 7 days single room
322,00 € 7 days double room
all including breakfast

Weißes Roß
Luitpold Str. 31
95233 Helmbrechts
Tel. 09252 / 7273
Fax 09252 / 358907


Prices
26,00 € per night single room
46,00 € per night double room


Special Offer
182,00 € 7 days single room
322,00 € 7 days double room
all including breakfast
more to come..
Further information is available on the city council's WebSite
If you need help with negotiating/booking don't hesitate to ask us.
The area is well known for the excellence of its food and drink.
For example, the nearby city of Kulmbach claims to be the world capital of beer.
Many people say that, even by Bavarian standards, our region is the worst for losing weight.
Many LBWers have already tried it and we guess they'll agree.
As mentioned above the area is quite hilly. This means there are loads of opportunities for organizing walks.
As we also plan to organize at least one trip to the Pottenstein and the Franconian Switzerland area you can expect some picturesque views.
Helmbrechts and its surrounding area provides many possible activities.

Cultural activities
If you're interested in technical history you will find the Textile Museum, or if you are more interested in the real heavy metal you can visit the Deutsches Dampflokomotiv-Museum. Wagner enthusiasts should visit Bayreuth (30km). If you are interested in European history, especially the Thirty Years' War, you should visit the Czech city of Cheb (Eger), where you can visit the Wallenstein house, the place he was murdered.

Recreation, Sports and "Wellness"
In Helmbrechts you will find a modern public swimming pool with indoor and outdoor pools and a wave machine.
Additionally, you can also enjoy swimming in 2 natural lakes (public and with life guards), both within walking distance.
During the trip to Pottenstein we plan to have a few rides on the Sommerrodelbahn. Several LBWers have tested the site and, we think, had a _lot_ of fun.
If you plan to bring your mountain bike you will find interesting (and maybe exhausting) routes. There are also quite flat routes (build over old railway lines) that even smaller children can master.
There is a special offer for those who'd like to bring their motorcycles. Hoppel, the local bartender, offers a guided tour through one of the most famous german biking areas (no offroad included). Depending on your skills this can become a _very_ interesting trip :)

Shopping
As Helmbrechts is famous in the world of textile manufacturing, you'll find several factory outlets and even a Fashion Design studio.
outletmeile-oberfrenken

Nightlife
Helmbrechts has several bars and restaurants and also a discotheque.
We already plan to organize 2 evening events at the Weinbrenners' site (known as BrandyBurg or Helmsdeep).
In the nearby city of Münchberg you'll find a cinema providing food and drinks for consumption during the movie.
German. As English is first foreign language you can expect it to be understood widely.
http://foto.pho.be/walks-20080928-and-20081011/
http://foto.pho.be/misc-helmbrechts-snow-2008-12-06/
GeekLawyers Sommerrodelbahn Video
more to follow..
| | | | |
| --- | --- | --- | --- |
| First design | Shirt with cake | Shirt with firework | Shirt 10 |